Freedom !
Progressing
is in the world of art
as in the mighty creation
the purpose.
There is no rule in art
that could not be
superseded by
a higher one.
Continue to
further reveal
the higher and true
field of art
and to transfer
yourself further
and further up
into art's heaven!
There is no more
undisturbed
more unmixed, purer
joy
than that which arises
from there.
That which we acquire
from art
is from God, divine
inspiration,
which sets human
abilities
a target that he
achieves.
Continue,
do not practise art
alone,
but penetrate its
interior,
which it deserves, as
only art
and science
elevate man
to divinity!
BEETHOVEN

PETER HÜBNER
COMMENTS ON HIS
SYMPHONIC
CREATION

"Music is a higher revelation
than all wisdom and
philosophy."
Beethoven
The symphony counts as so-called "absolute music" as opposed to "program music".
Absolute music contains the action, the fight, in the ideal case then the natural evolution of the inner human strengths, whilst program music – particularly in the case of the opera, operetta or also in symphonic poetry – essentially dedicates itself to the musical support of external actions and events.
Here the borders between the so-called absolute music and the program music are not tightly drawn and are often quite fluid. So in the opera, for example, it is not infrequently the case that inner-human moods and mood changes are musically characterised, or however, in a symphony such as Beethoven's sixth – the Pastoral – for example, external natural occurrences – from lightening to the twittering of birds are characterised.

© A A R E D I T I O N I N T E R N A T I O N A L 2001
Symphonic Music
continued 5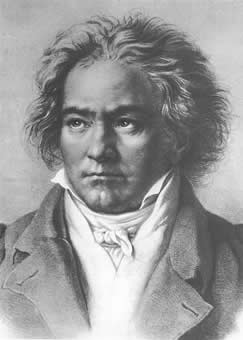 Symphonic Music
continued 5
PETER HÜBNER
COMMENTS ON HIS
SYMPHONIC
CREATION